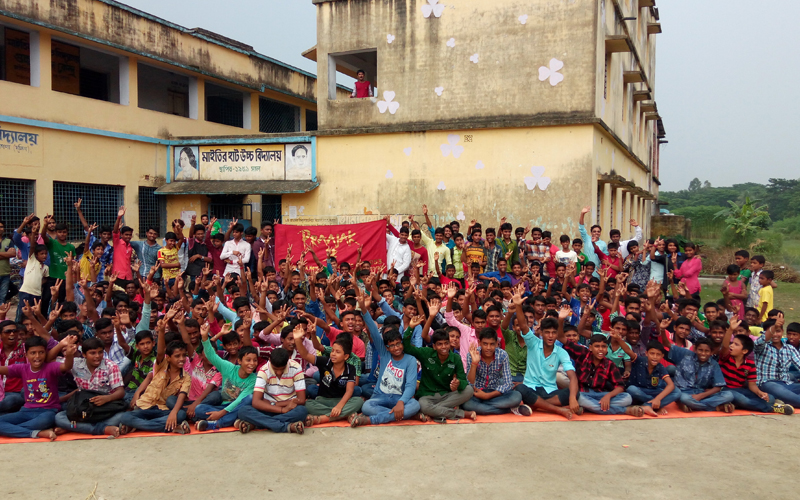 Antariksha: Empowering Children and Youth with Agency to Transform their Worlds by transforming themselves

The programme titled Antariksha (Space in Between) is a unique multifaceted programme
that aims to address gender equity and promote a society free from gender discrimination
and gender-based violence. As a part of this programme Praajak works with adolescent and
young boys and girls who are the best agents to lead this transformation and inculcate

empathy, esteem, and acceptance. The idea is to empower the adolescents and young
people identify what they can change, within themselves and their communities, while also
being given the tools to make these changes happen. As a part of this programme, Praajak is
also for working with parents of adolescents and youths and the communities in order to
build an ecosystem where rights of children can be ensured and a gender just community
can be made possible. This programme runs across 8 districts of West Bengal (Malda,
Murshidabad, Darjeeling, Jalpaiguri, Paschim Bardhhaman, South 24 Parganas and Kolkata.)
The methodology of engaging children and youth and facilitating a journey of
transformation has been consolidated into a time bound framework with clear outcomes
and milestones. For this Praajak has developed a Foundational Course consisting of 9
Modules for both boys and girls based on previous experiences of conducting study circles
and feedback from participants. The Foundational Course orients the adolescents and
youths on basic concepts of human rights & child rights, differences between sex and
gender, gender-based discrimination and violence, gender equity, adolescence and
sexuality. These trainings help the children and youths understand and situate issues of
Early and Child Marriage, Child Labour, Trafficking and other forms of gender-based violence
and discrimination and understand the intersections between gender and violations of child
rights. It enables them to understand the root causes of the problems and thereby explore
ways to address them in their families & communities.
Along with the gender training, collectivisation in order to strengthen community
ecosystems is yet another cornerstone for this programme. Collectivization refers to the
bringing together of members of marginalized groups in ways that enable them to articulate
their oppression and strategize for individual and social change. Praajak's work with
adolescent boys and girls through learning circles, sports, various other creative and cultural
practices have seen the emergence of very strong collectives which have become safe
spaces for collective members to strategize in order to maximize their life choices and work
towards creating gender equitable communities where rights of children, adolescents are
protected. The collectives are also seen to be providing shared spaces of learning,
campaigns on issues of local interest and issues pertaining to their own lives. Thus, the
collective networks have helped adolescent boys and girls claim new identities, where along
with self-transformation they are leading various social changes within their communities.
The collective members continue holding various action projects within the communities
like holding Kabaddi tournaments for women, game activity-based gender awareness melas
etc. These activities are geared towards generating awareness on issues of child marriage
and different gender-based discrimination and violence. It has been reported that these
initiatives have led to enhancement of the quality of community life. Presently Praajak has
198 such collectives across the 6 districts.
Sports for Empowerment
[if this can be highlighted separately within the Antariksha Programme]
The programme has been an affirmation of Praajak's belief in the power of sports as one of
the tools to empower and amplify voices of adolescent and young girls and tear down

gender barriers and discrimination. Playing Kabaddi along with development of life skills and
gender sensitisation activities has helped to improve self-efficacy of girls and has
contributed to the development of leadership skills. Participating in our project Kabaddi for
Empowerment the girls are now equipped with improved life skills and self- efficacy to
exercise their choice, consent, and agency. The girls have thus been able to find a voice,
understand the power of collective and articulate their demands. The girls' groups are
acting as support network for themselves thereby strengthening their protection issues
within the community. These enable girls and young women to make better life choices
where the probability of abuse and exploitation can be reduced.
The girls have gone ahead to play Kabaddi at the district and state levels and emerges as
role models for their communities. The use of role models / positive deviance from the
community has played an important role to catalyse social change. It has helped in
mobilization of parents, especially fathers to transform their perceptions and mind set
towards girls' involvement in Kabaddi.
Milestones of the program


Praajak worked with 35 Kabaddi groups with 597 girls, who participated in 33 study
circles along with attending the different Kabaddi practice sessions.


12 new collectives were formed with 227 adolescents including 147girls. They
conducted 32 joint social actions against gender based harmful practices and COVID-
19 protection messages, reaching 4845 community persons.


The projects strengthened 18 Child Protection Committees (CPCs) at village and ward
level, where children (supported under the project) approached Child Welfare
Committees, District Child Protection Officers and the District Social Welfare Officers
and shared their needs and expectations.


As a result, the DCPU supported 28 girls with a livelihood training program. The
project team continued to advocate with the Sports Association, and it is heartening
that 42 girls were selected as district level players within this reporting period.


Kabaddi league matches are being played in fields belonging to local mosques with
final matches being attended by more than 1000 people including male family
members of the participants.


The teams formed in Murshidabad, Malda and Siliguri contain participants from
diverse religious and ethnic backgrounds such as Adivasis, Dalits and Muslims.


156 women participated in the Block and Ward level Kabaddi League matches for
women in Murshidabad and Malda.


Use of different cultural forms to work with communities: Vasantotsav Udyapan Samiti formed in Murshidabad and Malda
Holi is a popular celebration in Bengal. However, over the last few decades, the festival is
known more for the drunken and violent behaviour of men who take over the streets of
towns and villages in the marginalised areas of the districts we work in. Given the lawless
atmosphere, women and girls rarely venture out of their homes to celebrate the festival to

play with colours and to otherwise mingle in the community. In fact, a feeling of general fear
pervades habitations and most often the streets and public squares of the villages wear a
deserted look.
In this context, young girls from some of the collectives in Pilkhana village of Beldanga
decided to make a change by trying to transform the public spaces in Pilkhana and
surrounding villages into areas where women and girls can venture without fear and
celebrate Holi. The girls decided to celebrate Holi across 13 adjoining villages in the lines of
the Vasantotsav celebrations of Shantiniketan, instituted by Rabindranath Tagore. This
implied morning processions, or 'baitalik' of girls and boys who would dance to songs of
spring and Holi, go around the villages and finally gather at a central place to conclude the
'baitalik' with a cultural medley. The Vasantotsav Udyapan Samiti (Vasantotsav Celebration
Committee) was formed to make this successful. This was the first-time women and girls
organised a public event in the area and laid claim to the village streets on Holi. Anecdotal
evidence from community members seems to bear out the fact that public drinking and
alcohol induced violence in these villages seemed to have gone down. Similar committees
have been replicated in various other villages of Murshidabad and Malda.